ADELE LEAH
How to make 2020 your best year yet!
Would you like this to be your best year ever?
Would you like this to be the year when your career takes off?
Would you like this to be the year where you hit your goals and turn your dreams into a reality?
If you ask me, the answer to these questions is always a resounding YES!
But sometimes, we become complacent, and settle into the rhythm of our daily working lives without making the changes we were so excited about.
It happens. It's the New Year now, but soon, spring will blossom, then summer, then autumn, and before you know it, you'll be swigging mulled wine and wrapping Christmas presents again.
Let's not get ahead of ourselves, though.
Chances are, you're an ambitious, driven professional with at least four or five things you want to accomplish in 2020. And maybe the new decade has gotten you thinking about your long-term plan, too.
If you don't want another year to fly by without achieving your career goals, now's the time to concentrate on how you're going to make 2020 a game-changer. Because as I always say, you have to propel your career forward. Other people might boost you along the way, but no-one is going to do the work for you!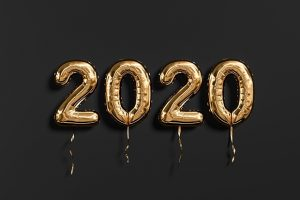 How to approach your career in the New Year
used to start every year brimming with ideas for my career. I had big dreams and aspirations for who I wanted to become and what I wanted to do. Then — suddenly — it'd be December and I'd be no closer to making any of those dreams a reality.
Why?
Because I was never clear about my intentions or how I'd go about accomplishing them.
After hitting a few major bumps in my road through life — one in the form of a tramline that threw me from my bike and into a serious accident — I realised that time is precious and I needed to stop wasting it. I couldn't let another year go by feeling like I'd failed.
I needed to take action.
I had the first step down pat: I knew what I wanted. The problem was, I'd been waiting, wishing and hoping for good things to happen to me. It was time to face up to the fact that this flying-by-the-seat-of-my-pants method wasn't working.
I had to take charge of my own career.
Looking back, I'm almost pleased I knocked myself out on the road and literally smelled the pavement. The accident led me to reassess my life and get crystal-clear about the path I wanted to take.
Fast forward eight years, and my dream business is in full swing. I spend every day guiding other people to do what they love, and to find a sense of purpose and satisfaction in their careers. I play a small part in helping people to change their lives for the better, and I'm incredibly proud of that.
Let's be real: We spend a huge chunk of our lives at work. Why on earth should we spend it feeling miserable, unfulfilled or unsatisfied?
What I did to change my career path
After the accident, I sat down and really thought about my goals. I wrote them down.
Once I saw my goals in black-and-white, the actions I needed to take became pretty clear.
One of my goals was to follow my passion for career coaching and make sure I wasn't working in recruitment by my 45th birthday. In short, I wanted to set up my business.
I also challenged myself to complete an Olympic distance triathlon before I turned 40. I needed to be fitter than I ever had been before.
To make these goals happen, I looked at my time management. I prioritised my triathlon training and created a schedule that allowed me time to study for my coaching diploma.
I also needed to assess my lifestyle and change some of my bad habits! After all, I couldn't keep doing the same thing — like partying and skimping on sleep — and expecting different results.
Finally, I needed to figure out where I was spending my time and where I was wasting it! When you do this, it's amazing much more time you can find in a day.
When I became clear on what I wanted, working towards my goals became a whole lot easier!
And I was inspired! I knew that every decision I made brought me closer to my goal. So, I filled my days and weeks with high-priority actions that could help me achieve my desired outcome. I thrived on it!
The magic was in the action, not just the thought!
The more actions I took, the more I wanted to take. It was the best kind of cycle. And it was a stark difference to how I was before the accident. I used to agonise over decisions about the simplest things, and procrastinate until I was constantly scrambling to make a deadline.
But with a game plan in place, I was able to break up my huge goal into smaller, more manageable goals. It's funny how much easier things get when you know where you're headed and you have a roadmap to get there!
Now, it's your turn
What about you? What are you hoping to achieve in 2020 and beyond?
Do you have an action plan?
It's okay if you don't! I can't plan 2020 for you, and I can't guarantee that all your career dreams will become true in the next 12 months.
What I can do is share the tools you can use to get on the right path.
I'm here to help, which is why I created a FREE workbook that will guide you towards a better, brighter future.
The Road to Your Best Year Yet is a four-step plan that's designed to help you come up with concrete, practical ways to achieve your major career goals. It will encourage you to reflect, reset, and really think about what you want from your life. You can download it here https://www.adeleleah.com/best-year-yet
That's it from me! Happy planning and good luck on your journey through 2020!
If you need a little more help, please give me a shout on adele@adeleleah.com and we can work together on getting you the career you want.