LITTLE TREATS CAUSE A STORMI.
Branding and the execution of top-quality events usually mirror the qualities of the organisation throwing them. No longer is simple, stylistic company related branding such as logos, brand colours and corporate fonts enough! ConnectIN recognise this and place our focus on the details that matter most – creating a long-lasting sentiment for guests, conveying the brand's overarching message and fostering the special relationships between the attendees and brand.
Choosing the correct elements to compliment your event is crucial (as described in our previous blog post); from venue, to audio and visual equipment, to catering and entertainment – this can be the difference between leaving a sweet (or bitter) after taste in your guests' mouth. Our services on offer will ensure that the specific event is tailored to the unique needs of our client.
Whether it is meticulously planning an awards ceremony, another high profile event or a live broadcasted conference – there are many elements that would need to be considered when designing your event.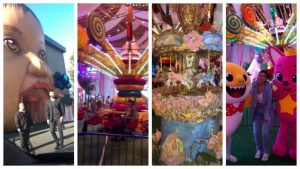 For example, it comes as no surprise that when Travis Scott and Kylie Jenner embarked on throwing a spectacle of a 1st Birthday party for their baby Stormi Webster, no expense was spared (and no detail missed) when recreating a "Stormi-World" Disneyland themed event. An homage to Travis' Astroworld album – the entrance alone boasted a giant inflatable Stormi with an open mouth to welcome guests into a lavish, rainbow butterfly themed garden – complete with Stormi-centric snacks, carousels, a gift shop and a bespoke fairground; all guaranteed to have left a memorable aftertaste at the end of the night (and the generated engagement and visibility online is always nice, too!)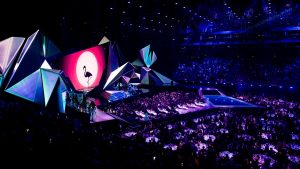 It isn't all aesthetics however, operationally events can be a daunting task. Take the Brit Awards for example – curating a world-wide, high profile spectacle to be televised and meticulously feed the 4,000 VIP attendees within an increasingly tight 2 hour live-show time schedule, or carefully curating thematic experiences for a multitude of celebrity guests, ambitious event planning is not a task for the faint-hearted; that is where we come in.
What can we do for you?
1. Ensure that your event is properly 'branded' for the evening.
The secret to a successful event? We think it all stems from understanding and knowing your audience. Understanding what your guests expect when they come to your event, who your target demographic is and ensuring you observe your guests at the event – to see what you can perhaps do better next time is of top importance.
2. Ensure the bones of the event are solid and the basics are ironed out.
ConnectIn believes that quality is at the heart of any successful activation or event. Attendee engagement and satisfaction will have a direct impact on any brand or company – if they have a bad time, this will reflect negatively on your brand.
3. Add value to your brand proposition; co-creation
Nothing is worse for a brand than the impression of inconsistency, ConnectIn recognises that the brand/event is not purely about you or the organisation. Stakeholders, audience and the public all play a vital role in determining the shared values of the event / shaping your brand efforts.
We recognise the importance during and after the event to listen to what your audience is saying and feeling. As mentioned, this will inevitably shape the perceptions around your brand and your event's success. ConnectIn will from the get-go create and tailor a bespoke experience for your target audience.
We will incorporate a multitude of factors which will surely engage your audience and increase loyalty around your brand – leave it to us!