Even the most popular brands need to generate a buzz in order to stand out from the crowd. Coming up with creative product launch event ideas is a great way to make your big reveal a big deal. Additionally, modern audiences have high expectations and plenty of options, so coming up with something unique is now all-important.
Our top tips for successful product launch campaigns could help you to make an impression. Whether you're planning a physical, virtual, or hybrid event, we'll cover everything you need to know to give your new product a big shot at success.  
What Makes a Successful Product Launch?
The ultimate aim of a product launch is to create enough of a buzz around your new goods or services that, on release, there's already demand. It's been estimated that just 5% of new products succeed, so understanding your market, establishing your brand, and knowing what the competition is doing should get you off to a strong start.   
With so many products to compete against, the key to successful product launch campaigns is often doing something unique. It's important to engage your audience from the get-go, so dividing your strategy into stages can help with decision-making. During pre-launch it's all about creating interest, whereas the aim for post-launch is to maintain that interest for as long as possible. 
Product Launch Event Ideas
Before you start, it's essential that you've first taken into account your target demographic. Some forms of marketing work better for certain groups than others, so successful product launch campaigns are often dependent on knowing your audience. Once you know who you're targeting, it should become much easier to decide which product launch event ideas are best for you.

1 – Build a Loyal Community
Whichever product launch platform you use to build your community, it helps to maintain a steady stream of good quality content. Ask questions, post regularly, and take opinions on your products and services. In short, being active, engaged, and open is a good way to nurture a following ahead of release.    
Another alternative is to find an influencer who might have a similar audience to yours. Some influencers have huge — and very loyal — online followings that can be tapped into. Once you've got your community, you can use the likes of competitions, sneak peaks, and giveaways to keep them engaged with your brand ahead of launch. 
Using an events company can give you access to a huge portfolio of influencers and celebrities to suit each and every budget.   
An increasingly popular factor in successful product launch campaigns is branded hashtags. If you want to grab your community's attention, focus on using online giveaways and challenges and tie them to a simple hashtag for maximum effect.  This is one of the more cost-effective product launch event ideas and, if you start trending, the extra exposure could prove to be priceless. 
2 – Have a Countdown Clock and/or Teaser Campaign
Countdown timers are an increasingly tempting option for successful product launch campaigns — and it's easy to see why. This is an excellent way to build a buzz as the hours and minutes tick down. Countdown timers can also be tracked and measured, offering valuable insights into the effectiveness of your product launch campaign. 
Similarly, an online teaser campaign gives a tantalising peak at your new product ahead of the big reveal. A teaser could come in the form of a blog, paid ad, or video, depending on the platform your audience uses most. If you've hired an influencer to help with promotion, you could ask them to livestream about the launch in realtime to their followers.
3 – Open a Pop Up Shop
A pop-up shop is a temporary retail space that only appears for a few days or weeks. This is one of our favourite product launch event ideas because it allows you to create a physical environment for your brand and product, engage face-to-face with potential customers, and build anticipation. To make the most out of this option, you'll need to excel at venue-finding, use a bold visual theme, plan additional activities, offer giveaways, and more.
4 – Open a Photo Booth
Photo booths are great because they can be personalised to promote your brand. Because engagement is a major part of what makes a successful product launch, you can use a photo booth to draw a crowd, get them comparing snaps, and offer a memento of the launch. The booth itself can be physical, hybrid, or entirely virtual, according to your budget and the purpose of your event.

5 – Host a VIP Preview
A well-executed VIP preview event not only creates buzz around your product launch but also strengthens relationships with your community and their perception of your brand. An exclusive event can make guests feel like they're part of something special, increasing their likelihood of becoming brand advocates and spreading positive word-of-mouth.
This is also a good opportunity to let your audience test and ask questions about your new product or service. It's important to think about finding a venue that aligns with your brand, while an expert event designer will help to create the right tone and atmosphere. Audio visual presentations work really well to bring your ideas to life, and an events company can support in creatively executing this – which means no powerpoint presentations!
Finally, swag bags can be used to delight guests and create positive word of mouth.
6 – Stage a Product Launch Party
So, you've built your community, the countdown timer has moved quickly along, social media is abuzz, and you've invited a select group of attendees to come for the unveiling. Now to answer the all-important question of what makes a successful product launch? A lot goes into getting this right, so using an experienced event company can make sure that every little detail is taken care of. 
Perhaps the most important elements of a great launch party are venue-finding, event design, entertainment, and event production. The decorations, lighting and visuals will all need to tie into your theme, and you'll need to make sure that there are enough activities and refreshments to keep everyone entertained. A good product launch party should leave attendees excited and talking about your product long after the event itself is over.  
Remember to tailor your product launch event ideas to fit your target audience, product, and brand. The more unique and memorable the event, the better chances you have of leaving a lasting impression on attendees.
Finally, if you're just about ready to launch your new product, you might find our recent blog about the product launch event checklist really useful.
7 – Virtual Product Launch Event Ideas
While nothing beats the in-the-moment rush of live events, there are some big upsides to a virtual product launch. Firstly, you're not limited by the size of a venue, so can reach out to much bigger numbers. Additionally, a virtual product launch is cost-effective, convenient and can be completely interactive, keeping guests involved.
You can also track and analyse engagement, giving you a better understanding of which elements work and which might need tweaking. If you want the best of both worlds, you can even consider planning a hybrid event to bring the virtual and real words together.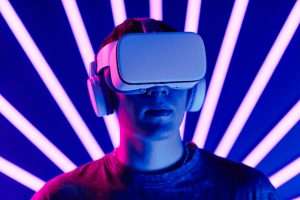 Here are a few of our favourite virtual product launch event ideas:
Networking

: It might not seem as natural as networking in the physical world, but you can factor virtual break out sessions into any event to bring your audience together.

Gamify It!

: Most people enjoy interactive games, so you can use things like online treasure hunts and other activities to complement your launch.

Virtual DJ

: The right music can act as a great soundtrack to your new product or service. If your product launch event has the right tunes, your guests are much more likely to have a good time.

VIP Sessions

: This is one of our favourite virtual product launch event ideas because it can sway maybe-guests into coming. VIP sessions not only add a hint of exclusivity but can be an invaluable way of getting feedback and answering questions.
Perhaps the biggest advantage of virtual product launch events is that they can be standalone occasions or hybrid, depending on your audience and aims. The biggest challenge is mastering the technical aspect, which will need to be seamless. If you're intrigued, you could always check what's involved with an events company that specialises in virtual events and hybrid options. 
ConnectIn Events: The No.1 Choice for Successful Product Launch Campaigns 
Making your product launch unforgettable can make or break its success. At ConnectIn Events, we've got experience of transforming our clients' ideas into memorable experiences. From interactive pop-up shops that intrigue an audience to stunning launch parties that can make you the talk of the town, our expertise turns your vision into reality. With a focus on innovation and attention to every detail, we can make sure that your product launch stands out from the crowd.
ConnectIn Events has helped both big and small businesses with everything from event design to event production. We even offer a popular free venue-finding service that is sure to match your objectives with the right location. Our specialist team offers a holistic service that can cover the whole planning process and are great at getting the maximum out of your budget.  
For complete support from a friendly and efficient team, get in touch with us today.