Are you planning to make a big splash with epic live corporate events? Perhaps you need to introduce an innovative new product to the market, or have been tasked with staging an awards show for your high-achieving employees? Whatever unforgettable experience you've got in mind, there are some prominent factors to take into account before you get started.
From the different types of corporate event, to the timescales involved, a lot goes into this tricky-yet-rewarding process. Knowing the obvious pitfalls and opportunities might be the key to unleashing the full potential of your next big occasion.   
What Are Live Corporate Events?
Any organisation that stages an event to meet a specific goal is planning a live corporate event. These in-person experiences can be used to achieve a number of important internal and external objectives. Internally, they are a great platform for relaying essential business updates, while externally they are ideal for brand-building and reaching new audiences.
Corporate live events are often used to inspire change and recognise outstanding individual performance. They can be employed for product launches, training, networking, awards shows, team building, celebrations, and announcing new initiatives. Aside from the serious business of educating, they are also a welcome opportunity to entertain! 
Live occasions are often tricky to arrange, as there are a whole host of interlinked tasks that need to be addressed along the way. These range from setting budgets and objectives, to venue-finding and event design. A lot goes into event production, so many businesses choose to use specialist planners rather than risking it themselves.  
8 Different Types of Corporate Event
There are so many different types of live corporate events, that it can be easier to categorise them as being either internal or external. Internal events tend to focus on employees and company culture, while the external looks to influence behaviour outside of the business. External events focus mainly on boosting sales and generating leads.

External Events
Conferences

: These often include keynote speeches, Q&As, seminars, panel discussions, and more. 

Product Launches

: If you're

releasing a new product

(or service), this is the perfect platform to let your audience test it out. 

Trade Expos

: An exhibition stand is a great opportunity to draw a crowd and generate leads.

Hospitality

: Aiming to impress a potential client? Hiring a private function room could seal the deal.

Networking

: Bring people together and share ideas. Just don't skimp on activities that combine business and pleasure.
Internal Events 
Team Building Activities

: Take your team building to the next level by saying goodbye to awkward ice breakers and embracing obstacle courses, zip-lining, and scavenger hunts.

Training Seminars

: The key to a productive training workshop lies in

choosing a venue

that makes it easy for everyone to take part. You'll also need to make sure that the location has enough technology to deliver an interactive experience.

Benefits Fair

: These types of corporate events are used to educate staff about the perks of their employment.    
In general, internal events benefit from on-site convenience and familiarity with the company culture. External events, typically held off-site, demand more attention to logistics like venue selection and entertainment.

5 Insider Tips For Flawless Live Corporate Events
A successful live corporate event is the culmination of months of intense planning and hard work. So many decisions are made in the run up to the big day that even seasoned professionals could be forgiven for overlooking the odd minor detail. That they don't is a testament to their mastery of the craft and capacity to get the big calls right.
Here are our five top tips for planning outstanding live corporate events:      
1 – Master the Budget
Budget dictates everything that follows, so will need to be as accurate as possible. Perhaps the most surefire way to achieve this is by looking back at similar events you've arranged and using past expenditure as a guideline. However, if you do this, don't overlook factors like inflation and changes to supplier costs.
When finalising a budget it's important to list not only outgoings but any potential incoming as a result of sponsorship revenue etc. To keep track of everything, consider using event management planning software. Finally, unforeseen changes can impact event costs, so factor in a contingency fund for the potential what-ifs.
2 – Know Your Objectives
There are lots of reasons for staging corporate live events. These range from brand building and product launching to rewarding employees and communicating essential business updates. It's important to fully understand your objectives and to use them as a point of reference throughout the planning process.
The S.M.A.R.T. method is a great way to make the success of your objectives measurable: 
Specific

: What outcome is expected?

Measurable

: Establish key performance indicators (KPIs) to measure success.

Achievable

: Make sure to set achievable targets.

Relevant

: What were the company's goals ahead of the event? 

Timebound

: Set clear timelines and deadlines for each phase of event planning.
3 – Find the Right Venue
The venue is one of the biggest factors in successful live corporate events. Once you've confirmed your objectives, you should have a clearer idea of what kind of location would work best to achieve your goals. For instance, if you're hosting potential clients, have you hired a venue that is sure to impress?
When choosing the setting, you'll need to dedicate time to ensuring it offers convenient transport links, audio/visual capacity, fast internet connection, catering etc. Also worth bearing in mind is that venue pricing can fluctuate over the course of the year. This means that you might get a better deal if you are flexible over dates.

4 – Create a Unique Event Theme
The themes at live corporate events aren't just window dressing. Done well, this factor can unify the whole live event, drive engagement, and play a major role in the atmosphere you create. The theme you choose can also help your occasion to stand out from the crowd and sell your message in new and exciting ways.
There are a few steps you can follow to give yourself a great chance of coming up with something special. Start by researching your audience and thinking about how this information feeds into your objectives. Next, host an ideas session to draw up a shortlist of potential themes. Finally, use the theme across all aspects of the event to tie everything together. 
5 – Write an Event Plan
Splitting the event timeline into separate sections makes it easier to keep track of everything. Once you've classified tasks as being either pre-event or on-the-day, you can add them to your calendar to ensure they're completed on time. Pre-event tasks include venue-finding and promotion, whereas on-the-day tasks include the likes of setting up registration desks and overseeing catering.
Pre-event tasks and event day tasks will cover most elements in your schedule — but there will also be follow-up elements. These can include taking down stage dressings, sending out and collating questionnaires, calculating revenue, and a final team debrief to discuss the success of the event.
How Long Do Corporate Live Events Take to Plan?
Ordinarily, the bigger the corporate live event, the longer it will take to plan. Therefore, you can expect events for fewer than 100 guests to take at least three months to deliver. For groups of 100 to 250, planning could take at least six months. Meanwhile, big scale events can take up to a year to stage.
Regardless of scale, giving yourself more time to plan a live corporate event is highly recommended. Not only will this give you added flexibility over dates, but it can also reduce costs. Having extra time to plan can also reduce the chances of oversights and give you an opportunity to plan for unexpected hitches.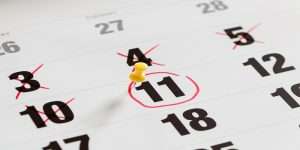 When tasked with delivering an event within a very small time scale, employing a corporate event management company can help to meet tight deadlines. Our experienced team has worked to the tightest of deadlines, so no need to stress. Get in touch and we will support in speeding up the process using our strong supplier network and experienced skills.
For anyone seeking to plan an amazing occasion, without the stress, recognised event planners are a fantastic option.
Make it Memorable With ConnectIn Events
Planning a live corporate event is an intricate process that requires talent, teamwork, and top notch time management. These occasions are packed with moving parts and important details, so it often takes an experienced outfit to achieve the best results. If you want to raise the roof at your next event, it's important not to leave anything to chance.   
ConnectIn Events is one of the leading event management companies in the UK. Our talented team has an impressive track record for planning successful conferences, awards shows, product launches, and lots more. We've worked with businesses from a variety of sectors, making us a versatile outfit that takes pride in showcasing event excellence.
Our friendly team are the experts at getting the most out of your budget and can take care of every aspect of planning. We specialise in event design and event production, and even offer a free, no-obligation venue-finding service. Whatever your objectives might be, we are perfectly placed to help. 
To find out more, get in touch with a member of the team today.