Formula for a winning work environment – By Adele Leah
As a career coach, I see a lot of people who are unhappy with their work and considering leaving their jobs — unsurprising, right?
But what might surprise you is that money isn't usually the deciding factor in whether or not these people decide to leave their workplaces.
Instead, things often come down to their manager, their team or the company culture.
People don't leave jobs — they leave toxic work cultures' – Dr Smina Aitisi-Selmi
With many of us spending over a whopping 100,000 hours of our lives at work, it's no surprise that more and more people are prioritizing working in environments where they enjoy spending time and feel valued.
A huge part of this comes down to company culture.
Because when we feel as if we're part of a team, and – even better – enjoy genuine friendships with our colleagues, we're more likely to be happy at work.
Employee happiness = Greater productivity
And happiness isn't just good for employee retention and morale.
Studies have shown that close team relationships also have a positive impact on engagement and productivity in the workplace.
The most successful companies understand this all too well — think of the famously relaxed workspaces and regular company retreats offered by major tech startups such as Google and other businesses in Silicon Valley, for instance.
However, far too many other businesses don't seem to have gotten the memo that creating the right company culture and developing strong team bonding is critical for their own profits and success.
In fact, research today shows that an alarmingly high number of people feel disengaged in their jobs, with only 15% of employees worldwide feeling engaged in their work, according to Gallup.
This creates a vicious cycle where employers fail to provide an environment that makes their people happy, and those people then go on to perform in a way that isn't as efficient or effective as it could be.
Unhappy or disengaged employees cost companies billions each year in lost revenue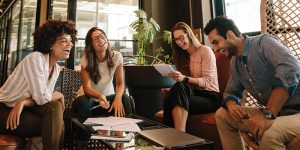 If company culture is tied to employee happiness, which in turn is tied to company productivity, it would obviously be beneficial to employers to create a better sense of team, improve their work environments, nurture their employees, and cut out toxicity.
So how do companies reshape their cultures to bring about these positive changes?
The following three steps are great ways to get started.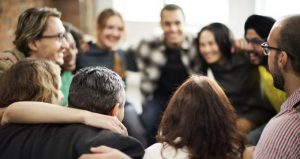 1. SHARING IS CARING
Only ,40%, of the workforce reports knowing their companies' goals — Bain
To create a sense of belonging and to bring a team or company together, it's crucial for a company to share its goals, vision and values with its employees.
This kind of sharing can be especially impactful when it takes place at an annual event that allows for employee networking and bonding, and that celebrates some of the signature achievements of the company and its top employees.
When people see the bigger picture that they're working to create, and are given the opportunity to truly feel a part of something, it can create a much more inclusive team environment and generate exciting new ideas.
2. ENGAGEMENT MATTERS
Highly engaged employees are ,87%, less likely to leave their companies than their less engaged counterparts — Corporate Leadership Council
It's so easy to get caught up in the busyness of day-to-day work that employers can quickly forget to nurture and check in with their employees, leading to a situation where everyone just shows up for the daily grind and company culture is barely given a second thought.
But cultivating employee engagement is much simpler than you might think, and you can do so by…:
Taking the time to develop individual and team growth plans, so that people feel as if they're working towards something and contributing to a larger goal.Promoting wellness with extended lunches for gym goers, giving out health club passes as team performance incentives, or even doing something as simple as creating a snack space with free fruit in the office.Hosting 'lunch and learn' events to help team members feel as if they're getting better at what they do and growing in their careers, by inviting keynote speakers or industry specialists to address them.
Organize things like 'away days', events or conferences for teams to attend, to encourage team bonding and bring out creativity and innovation. You can almost see the energy and atmosphere change as teams draw closer together at these kinds of events!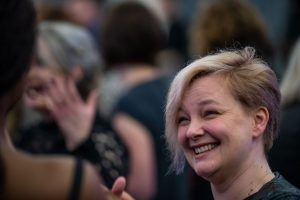 3. SAY IT WITH A THANK YOU
Over 90% of employees feel employee recognition is important at work — National Employee Research Survey
Without a company's employees, there is no team. And without a team, there really is no business!
Yet many employers often forget to say thank you or to recognise their employees for their hard work, commitment and contributions.
Such a thank you could take the form of a simple 'Recognition & Reward Plan', that could be as easy as a staff conference, an annual awards program or a staff incentive scheme.
Thanking a person for their hard work can transform how that person feels about their work, so it makes complete sense for businesses to express their gratitude to their employees, and thereby boost the morale and motivation of their workforce.
"There is no magic formula for great company culture. The key is just to treat your staff how you would like to be treated." – Richard Branson
At the end of the day, encouraging employee happiness is both the most profit-friendly thing to do and also the RIGHT thing to do. What's not to love about it?!
Let's keep working towards a world where more people love what they do!