On the 26th of March 2020, for the first time in our lifetimes, the country shut down. We packed up our laptops, said goodbye to our colleagues, and went home to introduce ourselves to a whole new way of working, and a whole new way of life. Unenlightened and unaware, we lived in a realm of questions. When will I next see my family? When will I return to work? Will I have a birthday this year? And we saw a huge shift in the way the world did business.
With every physical store, restaurant, bar, and nightclub closed (other than the famous 'essential shops'), businesses and individuals were forced to innovate. And I don't mean creating or following the latest lockdown dance trends to cure our boredom. Businesses were faced with a real, confronting crisis, and sadly, over time, too many fell by the wayside. It became survival of the fittest – or survival of the innovator.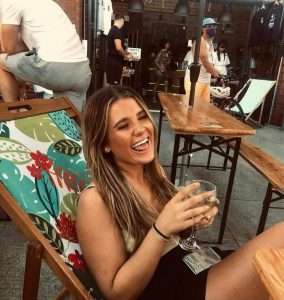 Before writing this blog, I asked my friends and family… 'what do you think of when you picture an event?' To name just a few of the answers – 'friends', 'socialising', 'social occasion'. So, tell me in that time, in that world we were living with, when 'friends' and 'socialising' as we knew it ceased to exist, how on earth do you stay afloat as an events business? Well, the answer is simple. You redefine what an event is.
I was studying in my final year of university on my event management degree at the time Covid-19 hit. What was a heavily practical course – planning in-person events and creating exhibitions and festivals, suddenly transformed into watching two-hour lectures through a screen with my slipper socks on. And as someone who loves to be out and about, I won't lie, I hated it! But I, as with every other individual and business, was offered two options. Either waste it, or embrace it.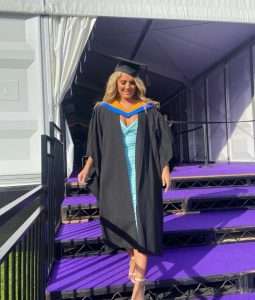 As an event student, I understood that the event industry was on its knees, but what really interested me was our ability to keep positive, keep going, keep moving in a world that was so still at the time. I began researching and decided that I would base my dissertation on the evolving nature of the event industry throughout the pandemic and, in the end, I was left with 3 key pillars for consideration.
Innovation
I know what you're thinking, "that's got to be the 3rd or 4th time I've heard the word innovation in this blog." I know, and I'm sorry. But doesn't that show you how important it is? I saw a quote once that read "the arrogance of success is to think that what you did yesterday will be sufficient for tomorrow" and it couldn't be more relevant. If Covid taught us anything, it's that the world can do a 180 overnight, so no it's not enough to just sit where we are. Failing to be one step ahead is just as bad as being ten steps behind.
Technology
Ahhhh, technology. And what a joy it can be. But whilst the event industry was adapting, so was the rest of the world. And behind the scenes in the technology industry, new innovative technology was being developed further every day. Now, in 2022, when virtual and hybrid events are more prominent than ever before, it has been crucial for us at Connect In to make use of emerging technologies and platforms to ensure that we can deliver the best and most impressive online events to our clients.
Know your attendee
During Covid-19, whilst the world was changing at one million miles and businesses were just trying to keep up, our customers were evolving at the same pace. The covid-19 pandemic changed the way eventgoers think, feel and act, and yet so many of the businesses I spoke to had changed nothing about their event marketing strategy. But there's no use in delivering the same message to a changed audience in a changed environment; it's like marketing Lego to a child, only after they've gone through adulthood. It's important to understand how event attendees want to experience events post-covid and what we can do to make them have a pleasant, safe and enjoyable experience.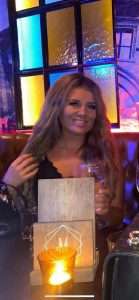 I think it's wonderful to reflect on the past 2 years and think back to the 'glooming' era of lockdowns, self-isolation and quarantines compared with where we are now. The event industry has faced enormous hardship through the Covid-19 pandemic. But in a glass half full scenario, disruption to any industry is a positive which fosters and breeds innovation and brings new offerings to the marketplace. Now, two years down the line, here I am – 23-year-old Jess as Events & Marketing Executive for Connect In Events. Four weeks in and no two days have been the same; working on a diverse range of events from conferences to summer parties, works dos and awards, it is fair to say we are well and truly back and 'booming!'
You ask me 'what do you think of when you picture an event?' I won't be able to give you a straight answer. There is no one word or phrase that can sum up the endless and unimaginable possibilities of our industry.