Summer is the ideal opportunity to get your hard working teams out of the office and have some fun. And, while it's great to get everyone to the nearest bar in time for happy hour, it can be even better to plan a more ambitious get-together. If you want to arrange something special you may well be shopping around for corporate summer party ideas.  
In this blog we'll list our ideas to help your colleagues enjoy each other's company in the (hopefully) blazing sunshine. So, let's pop those corks and start the festivities…
Budget Summer Party Ideas For Work
In an ideal world we'd all be sipping expensive cocktails in an infinity pool off the Amalfi Coast. However, that might be slightly out of budget for a fair few businesses. In reality, having a good time with colleagues doesn't need to cost the Earth, and there are plenty of summer party ideas for work that won't break the bank. 
Here are a few of our personal favourites:  
Summer BBQ
Some ideas are classics for a reason — and this is one of them. Assuming the British weather plays nicely, there's nothing more summery than the smell of delicious grilled food drifting over a venue while people chat and have fun together. A BBQ can also be adapted to suit any budget, from local — or owned — outdoor spaces to renting out a lofty rooftop terrace, hiring a great DJ, and finishing off with a fireworks display.
Whatever you're looking to spend, if you're thinking about summer party ideas for corporate events, this is a tried and tested winner.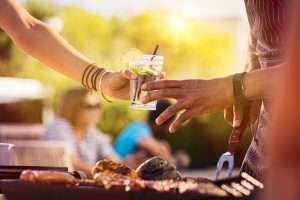 Office Sports Day
For the competitive types, an office sports day is a great opportunity to take on all comers in traditional school games. Typically, these events include fun team activities like relays, egg and spoon races, sack races, and long jumping. If you're keen to throw down the gauntlet, you can even turn this into an Olympic event that pits your teams against each other in the pursuit of glory — and prizes. 
It's worth noting that the key to this kind of experience is often the location, so it makes sense to put some serious time into venue-finding.
Outdoor Cinema
Watching a film during a long-hot summer night is now among the most popular summer party ideas for corporate events. Once you've found an events company that can sort out a projector and sound, the biggest cost is probably going to be food and drink which, again, doesn't have to bust your budget. Plus, if you already have a suitable outdoor space, this can prove to be a really low-cost, fun way to have everyone sit back, relax, eat tasty nibbles, and watch a great film together.
Just remember to give your teams some movie options in advance or, if you want to play it safe, stick with a good comedy. 
A Garden Party
If your idea of a garden party involves cups of tea, polite chit chat and finger food, it might be time to reevaluate. Aside from the garden, every other element of the party can be worked to suit your spend. This includes relatively modest options like food trucks, outdoor games, and plenty of refreshments.
Again, this is one of the corporate summer party ideas that works out even cheaper if you already have access to a communal space with plenty of greenery.
These suggestions aside, there are very few limits to what you can achieve, even if you have a strict budget. If you've covered the essentials of location, food, drink and entertainment, you're well on your way to a memorable summer event.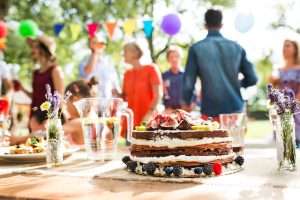 Super Summer Team Building Events
Following on from our budget-friendly ideas, let's move on to some team building experiences. Back in the day, the words 'team building' might have conjured images of colleagues trying to suppress their irritation while struggling to build a raft in drizzly weather. Fortunately, times have changed and summer team building events can be entertaining ways to shake off the working week and have fun together.
Here are our suggestions for bringing teams together:
Treasure/Scavenger Hunt
A treasure hunt not only gets teams working in unison but, most importantly, it's something everyone can enjoy. Although this is something you can plan yourself, using an experienced event company will almost certainly take it up a few notches. Modern treasure hunts use GPS technology and mobile phones to launch interactive games across your area.
It also helps to take advice about the theme of your event, with popular choices including spy games, pirate adventures, and regional histories. 
Soap Box Race
Get your colleagues together for a corporate summer party that offers teamwork, brainpower, and thrills. The idea is that your teams first need to build their soap box together, before taking each other on in a race to the finishing line. This kind of activity works really well as part of a full day of entertainment, making it an excellent centrepiece alongside awards, food, music, and games.  
Murder Mystery Office Party
Although a quiet retreat in the country is usually the best setting for a murder mystery, this is another adaptable experience that can be enjoyed almost anywhere. Teams often love dressing up and harnessing their inner-Sherlock and a team meal with music is a nice way to finish off the day. You can be sure that finding the culprit will have everyone talking long after the manor closes its doors.  
More Outdoor Summer Party Ideas For Work
In an ideal world, all corporate summer parties would come with a guarantee of blissful weather. Although it's hard to guarantee sunshine, let's go out on a limb and talk about some of our favourite summer party ideas for work. All of these suggestions are designed with the outdoors in mind, so are best planned for early in the season.
Street Food Spectacular
You might already have noticed that food plays a pretty big part in most of our suggestions! While a five course meal is a good way to get everyone around a table, it can be fairly inflexible and the choices might not work for everybody. If you're looking to satisfy hard-to-please foodies, street food trucks offer high quality options tailored to your tastes and budget.    
Summer Awards Show
One of the best ways to thank your teams for their hard graft is an outdoor awards show. Set in a picturesque location, you should include features like live entertainment, games, themed decorations, interactive voting, and — you guessed it — lots of food and drink. With a well-thought-out concept and attention to detail, your show can be memorable for all involved. 
Country Sports
Another pleasant excuse to get back to nature, country sports offer fun with a competitive edge. Activities can range from the traditional — think croquet, falconry and archery — to more modern pursuits like quad biking and zorbing. These days can be even better when tied in with neat rural touches like pimms, strawberries and cream, and boating. 
Ultimately, getting outside and having fun in the sun is one of the best ways to get together as a group. Assuming you're keen to try one of the options we've talked about, it's definitely worth using the talents of an established events company beforehand. An expert touch is usually the best way to deliver an elite experience that lives long in the memory.
Use ConnectIn Events For the Ultimate Corporate Summer Party
If you're thinking about summer party ideas for corporate events, it's important to note that arranging them can be time-consuming and intricate. From event design and production, to venue-finding and technical requirements, there are a huge number of factors to consider when staging an occasion. Therefore, if you want a guarantee of success, it's often essential to use an established events company. 
ConnectIn Events is a specialist when it comes to the small details that help to create a successful spectacle. We've helped some of the UK's biggest names to deliver everything from awards shows and parties to product launches and team building exercises. When you work with us, our end-to-end service can maximise your budget and make your plans a reality. We even offer a fantastic free venue-finding service to ensure you get the ideal location.
For complete support from a friendly and efficient team, get in touch with us today.