When an event is in full swing and everyone is having a great time, it might seem like the easiest thing in the world. Surely all it takes is a venue, entertainment, and some excited guests? Actually, there's a bit more to it than that!
What you don't see is just how much effort it takes to bring that magic to life within a fixed corporate event budget. If you're planning an occasion of your own, there are a huge range of factors to take into account to make sure that everything comes together as planned. And everything begins with getting the most value out of the funds available.
Let's take a look at everything you need to know to deliver a seamless experience that sticks within budget and dazzles your attendees.
The Importance of Budgeting in Event Planning
It's impossible to overstate the importance of budgeting in event planning. The financial limits you set are often an essential feature in a strategy that, along with the event plan itself, shapes the overall success of your occasion. If you execute your corporate event budget correctly, you can track and monitor spending and give yourself a much better chance of delivering the ultimate get-together.
Knowing how to budget for an event is an essential skill that can make it easier to develop contingency plans for any unforeseen changes. The value in this is that, even with a perfectly structured plan, there is always a possibility that circumstances might change or sudden mishaps could force you into a rethink. Setting a corporate event budget is the best way to avoid spiralling costs and understand what is achievable with the available resources.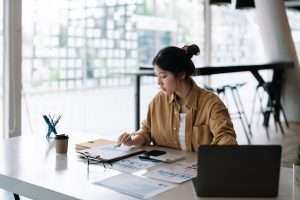 And, as with any financial plan, the more realistic you are about how much everything will cost, the better your chances of it running smoothly on the day.
Questions to Ask Before Deciding Your Corporate Event Budget 
While it might not be the most exciting part in planning an occasion, it's important not to overlook the importance of budgeting in event management. In reality, it can be a fairly long process that contains some tricky decisions along the way. Using a specialist events planner can make things much simpler for you but, whichever route you opt for, things often become much clearer when you answer the following questions: 
Does the Event Match Company Goals?
What targets or ambitions does your business have in mind for the year ahead? Deciding your corporate event budget before considering how it aligns with wider company goals is a bit like going into the woods without a map, mobile phone or compass. If you think about your business' main targets before finalising finances, you're much more likely to find a winning formula.
Have You Taken Time to Reflect?
Ask yourself, how did last years' gathering go? The ability to cast a critical eye over previous occasions can be really useful if you're still working out how to budget for the next big event. Perhaps last year's occasion prematurely ran out of funds and sacrifices had to be made? If so, were there any areas where spending went significantly over budget, and could this have been avoided with better planning or different suppliers? 
It's really valuable to think about what went well and what didn't quite turn out as planned. You can then use this information to both refine your ideas and avoid repeating costly mistakes. 
Is This Essential or Optional?
Before we get started here, there are a few factors that are pretty much essential when contemplating how to budget for an event. Staple fixtures for any occasion tend to include venue-finding, technical features, travel costs, and catering. Outside of these, you'll need to be pretty decisive with variable extras like the type of entertainment on show.
If it helps, list your preferences and be critical about what can be discarded if the budget won't stretch. After all, it's generally better to do a few things really well than to cut corners across the board and end up underwhelming.    
Are You Prepared For the What Ifs?
A major feature in the importance of budgeting in event management is being prepared for the what ifs. Even the best prepared occasions can come unstuck due to unexpected developments at some stage in the process. You can prepare for last minute hitches by having a small, discretionary emergency fund to cover unpredictable changes in cost.  

Do You Need Alternative Suppliers?
It's important to shop around during the early stages of planning. This will give you a much better chance of getting the best possible deal, and will help you to build a portfolio of potential suppliers in case your first choices come unstuck. Getting multiple quotes could also offer major savings that can be used to make up your rainy day emergency fund. 
What Goes Into a Corporate Event Budget?
Working around a corporate event budget is one of the trickiest aspects in event planning. Event management companies often use a budget template that lists every possible factor to keep everything on track. For anyone unsure how to budget for an event, keeping an eye on the following elements could be an invaluable way of making sure that nothing is overlooked. 
Travel and Accommodation Costs
If your venue is located somewhere remote or hard to reach, you might need to offer help with transport and/or accommodation. After all, it would be a shame to host a spectacular affair that ends up only being half-full due to inaccessibility. Ask your guests if they need help with travel and accommodation and make sure to factor this into your budget, as it can quickly get costly. 
Catering
Do you know how much food and drink will cost? This will be shaped by how many attendees are expected and how lavish your menu plans become. The more accurate your estimations are, the easier it will be to make everyone happy without having to compromise in other areas such as event design and event production.
Employee Compensation
Compensating organisers for their time is an often overlooked factor in the importance of budgeting in event management. It's common for multiple team members to pitch in during both planning and the event itself, so think about how you'll pay them for their help. Aside from having an impact on the funds available, failing to acknowledge this might also damage morale and affect future affairs.
Cost of Facilities
Finding — and hiring —  a venue is usually the biggest outlay in terms of facilities. Once you've spoken to a few venues, you should be able to get a rough idea of the costs involved, which will give you a clearer idea of how much is left to go around. And remember, facility costs also include what happens inside the room, so don't overlook lighting, technical charges, security, and event design.

Logistics
Does your corporate event budget cover any necessary permits, licences, or insurance? If not, they will need to be factored in. Most elements that fall under logistics stem from your choice of venue, so any additional requirements should be easier to predict when you know your location.
Marketing
If you want your venue to be packed to the rafters, you'll probably need to think about how you;'re going to market the occasion. The costs involved will depend entirely on how big of a splash you intend to make and how many channels you're using to promote your message. Think about this before you begin and you can start to make choices that suit your overall funds.
A huge amount of planning goes into a great event, and the budget is absolutely critical. The more effort you put into fact-finding and logistics, the more accurate your forecasts are likely to be. Therefore, if you don't have the time to commit to the budgeting process, you should strongly consider contacting an established event management company to take away the burden and do what they do best — stage memorable occasions.
Worried About Your Corporate Event Budget? ConnectIn Events Can Help
ConnectIn Events is an established expert in event management, with an unbeatable track record of planning outstanding occasions. We've helped clients from a huge range of industries and offer a versatile service for businesses both big and small. We excel at taking the stresses and strains away from our clients thanks to an end-to-end service that keeps you in the know at all times.
Our friendly team can help with everything from deciding themes to taking care of audio visual requirements. We know exactly what is needed to bring your visions to life on time and within budget, so you can expect a seamless lead up to your occasion. We even offer a popular venue-finding service, completely free of charge.
From product launches and brand activations to Christmas parties and awards shows, we've done it all. If you want to host a spectacular event, with none of the usual headaches, we're here to help.
For more details, get in touch with a member of the team today